Rabat and Marrakesh Calls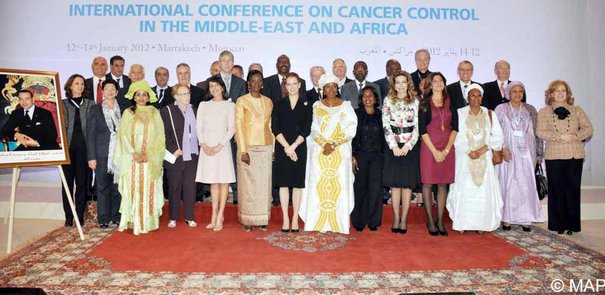 The Appeal of Rabat
1st International Symposium on cervix cancer prevention and Rabat's Appeal
On September 15th and 16th of 2006, the first International Symposium on Cervix Cancer Prevention was held in Skhirat, attended by 74 participants coming from 12 countries. The aim of this symposium was mainly to gather the representatives of public healthinternational agencies, the overseers of the national healthcare programs, the Foundation lalla Salma involved in fighting cancer, the leading figures and the decision makers of the civil society as well as the healthcare specialists, in order to discuss the cervix cancer prevention and control strategies.
The Symposium ended with the unanimous adoption of "The Appeal of Rabat". This first gathering has been organized by the Foundation lalla Salma in Foundation with the Ministry of Health, the WHO, the National Cancer Institute of France (INCA) and the management of the International Department of the American National Cancer Institute (NCI).

The Appeal of Marrakesh
International Conference on "Cancer Control in Middle East and Africa" and the Appeal of Marrakesh
The international conference on Cancer Control in Middle East and Africa was held from January 12th to 14th, 2012.
This major international conference, lasting two whole days, brought together more than 300 participants to share plenary sessions, talks and presentations, debates and workshops, and is dedicated to the critical issue that is fighting cancer in Middle East and Africa, doing so through two thematic lines: "what is the best prevention strategy against cervix cancer?" and "which action plan against cancer for mutual cooperation and access to healthcare in Middle East and in Africa?".
More than 25 countries were duly represented at the top level: Princesses, First Ladies, Ministers of Health, Presidents of foundations and NGOs fighting cancer, high representatives of the WHO and UNFPA, eminent scientists and researchers, professors in oncology, public health professionals, senior officials of the main pharmaceutical groups... The conference has been organized by the Association Lalla Salma against Cancer, in partnership with the World Health Organization, the Ministry of Health, and the National Fund for Social Welfare Organizations.
This international conference ended its works by issuing recommendations covering both thematic lines of the conference. During the closing, all the participants of the International Conference against Cancer solemnly issued the Appeal of Marrakesh.