Early detection
In Morocco, cervix and breast cancers represent serious concerns for the public health corpus. Not only they correspond to the most frequent cancers affecting woman (36.1% for the breast cancer and 12.8% for the cervix cancer), but they also cause a significant add up of deaths due to the delay in their diagnosis.
The breast and cervix cancersearly detection program targets the women from 45 to 69 years old for the breast cancer screening, and the women aged from 30 to 49 years for the cervical screening. This program is based on the clinical examination for the breast cancer and on the cervical visual inspection method with acetic acid (VIA).
To reduce the incidence and the mortality due to these two cancers, the Foundation lalla salma set up an early detection program supported by large-scale campaigns of awareness and information, by taking into account the three levels of the Moroccan health system.
Awareness campaigns are passed on by all the health centers of the territory, that is to say more than 2500 centers through the whole country.
_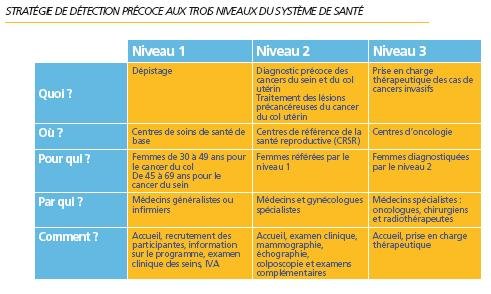 The three levels of the Moroccan healthcare system are:
Level 1: healthcare centers, general practitioners offices.
Level 2: district and department hospitals, diagnostic centers, specialists' offices and private hospitals.
Level 3: university hospitals, oncology regional centers, private ward cancer hospitals
Early detection guideline
The Lalla Salma Foundation against Cancer found the wherewithal to achieve its strategic objectives and focused since the very beginning on the healthcare professionals' vocational training and support, by organizing regular seminars, workshops, assertiveness training and so on. With this aim, the Foundation Lalla Salma published the "Guide of Early Detection for the Breast and Cervix Cancers" directed to every healthcare professional whether be operating in the public or the private sector, and to the healthcare supervisors and trainers. This Guide is a reference textbook treating of the various stages of the screening and the diagnosis of the breast and cervix cancers.
Reference Centers of Reproductive Health
As part of the Program of early detection for the breast and cervix cancers, the Foundation Lalla Salma modeled and standardized the screening centers, called them "Reference Centers of Reproductive Health" (CRSR) prior to the ongoing of their construction. Integrating the early detection of the breast and cervix cancers into the reference centers of reproductive health set up by the Ministry of Health was indeed an important measure to improve the process.
Mobile units of mammography
Another useful measure within the framework of the same program of breast cancer early screening is that of the pilot program experienced in the regions of the Grand-Casablanca and the Souss Massa Draa, which have been equipped in 2008 with two mobile units of mammography. This strategy made much simpler the early detection of cancers, even in far-distant villages.