Corporate partnerships in Morocco
Institutional partnerships in Morocco
The Foundation Lalla Salma has for vocation to support the Moroccan health system in fighting cancer, so ipso facto is not in direct relation with the patient. The different activities of the association are carried out in close coordination with the Ministry of Health and the healthcare institutions (hospitals, but also basic health care centers) in order to give access to the best care even to needy people.
As part of its duties, the Foundation Lalla salma helps along the coordination of the interactive projects decided between different participants, not to forget that the association's scope of activity leads the Foundation Lalla Salma to often cooperate closely not only with all the healthcare professionals in Morocco, but also with the Ministry of Education, the Provinces and Regions of the Kingdom, as well as with diverse public healthcare institutions.
This collaboration is based on various conventions signed with these institutions.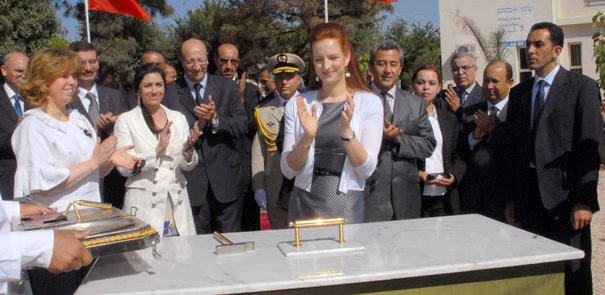 The Ministry of Health guarantees the application of the governmental measures tending to secure the control on exercising the medical, paramedical and pharmaceutical professions, in compliance with the current legal and statutory rules.
www.sante.gov.ma

The Ministry of Education elaborates and implements the Government's policies in terms of education, according to the current laws and regulations.
www.men.gov.ma

"CHU Ibn Roch Casablanca" teaching hospital
The Ibn Rochd university hospital has been created by gathering the civil hospitals Maurice Gau and Jules Colombani with the military hospital Janvial, built during the thirties.
In 1983, the Ibn Rochd university hospital became a public institution of administrative nature, controlling its own financial autonomy.
www.chuibnrochd.ma

"CHU Ibn Sina Rabat" teaching hospital
The Ibn Sina Hospital Center (CHIS) is a giant structure including 10 hospitals dedicated to special care and hospitalization: the Ibn Sina Hospital itself, the Specialized Medical hospital, the Children's hospital, the National Institute of Oncology, the Maternity hospital Souissi, the National Center of Reproductive Health, the Moulay Youssef hospital, the Dental Center of consultations and treatments, the El Ayachi hospital, the Ar-Razi hospital in Salé and the Emergency Medical Service SAMU.
www.chisrabat.ma

(Standing for Caisse Nationale des Organismes de Prévoyance Sociale)
The CNOPS is the National Fund for Social Welfare Organizations, an institution in charge of the compulsory basic health insurance covering the public service employees, such as the state employees, the public service agents, the public service retired people and the victims of human rights infringements.
www.cnops.org.ma

Mohamed V Foundation for Solidarity
The Mohamed V foundation for solidarity, set up in 1999 under the effective chairmanship of His Majesty the King Mohamed VI, is a state-approved foundation which widely contributes in fighting poverty together with other social major actors, as per the foundation's by-word "…United to help those in need…". The Mohamed V foundation for Solidarity received a special consultative status to the Economic and Social Council of the United Nations Organization.
www.fm5.ma

"CHU Mohamed VI Marrakech" teaching hospital
The Mohamed VI university hospital of Marrakesh is a public institution. The CHU Mohamed VI includes three healthcare centers: Ibn Nafis hospital (inaugurated in 1981), Ibn Tofail hospital (inaugurated in 1982), and Ar-Razi Mother-child hospital (inaugurated in 2008).
www.chumarrakech.ma

"CHU Hassan II Fès" teaching hospital
Since its opening in 2009, the CHU Hassan II teaching hospital is working ceaseless at enhancing the quality of the medical care in the region Fès-Boulemane so as to develop a "health excellence cluster". Besides the existing two first hospitals (the Omar Drissi hospital and the Ibn Al Hassan psychiatric hospital), the teaching hospital of Fes includes by now a Specialized Medical hospital, a Mother-Child hospital, a hospital dedicated exclusively to oncology and nuclear medicine, a central laboratory for the medical analyses and a center of external consultations.
www.chufes.ma/
"Crédit Immobilier et Hôtelier"
University Souissi Mohammed V
Rabat-Salé-Zemmours-Zaërs region and Province

Grand-Casablanca region and Province

Souss-Massa-Drâa region

Tanger-Tétouan region and Province

Meknès Tafilelt region

Casablanca Urban district

Arabic Diplomatic Circle

Foundation Action Mutualiste MAMDA-MCMA